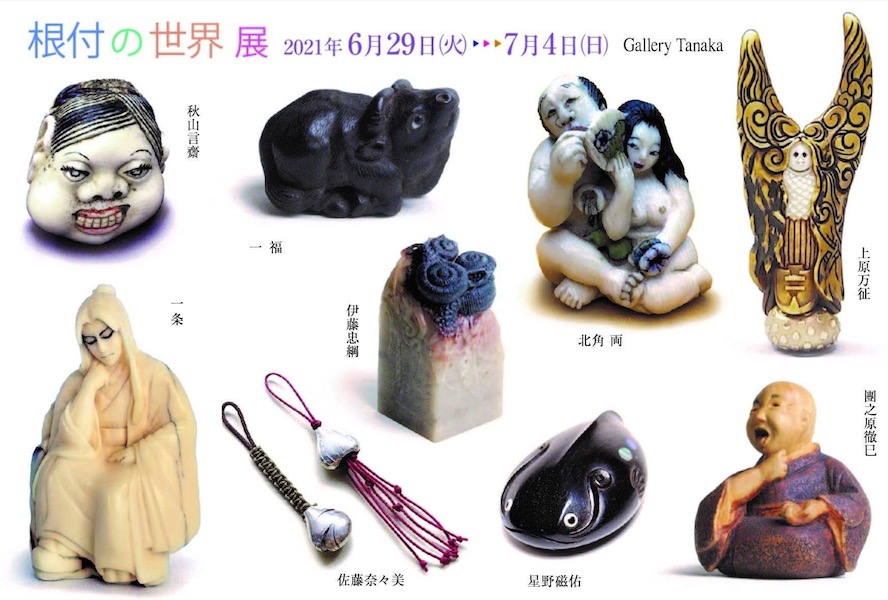 Gallery Tanaka
June 29 – July 4, 2021
"The World of Netsuke"
An annual group show of netsuke. Nine artists participate this time, and their works display their creativity and individuality.
"Koryuen Book Fair"
The 3rd book fair arranged by Koryuen!
During the period of "The World of Netsuke" show, various publications of netsuke and inro (in English and Japanese) are sold at the Gallery, thanks to the kind assistance of the gallery owner, Mr. and Mrs. Tanaka.
The items for sale are slightly different each time, and many of them are reasonable in price and rarely found in the market.
My book Netsuke (in Japanese) with autographs of my father Ryushi and me will also be available.

Please stop by if you are around in Ginza!
Gallery Tanaka
Address: Dowa Bldg. 1F, 7-2-22 Ginza, Chuo-ku, Tokyo 104-0061
Open hours: 1:00pm – 7:00pm (closing at 5:00pm on the final day of the exhibition)
Open throughout the exhibition period
Website: http://www.g-tanaka.info/
Postcard, Gallery Tanaka (c) 2021